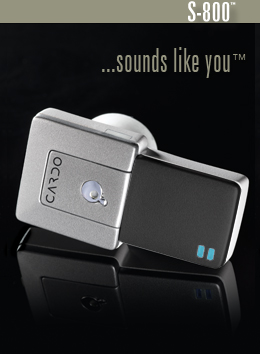 Back in the days of my old web journal I used to do a lot of product reviews, but I haven't really done one in a long time. And even though I've had this thing for over a year, I feel compelled to write about it now.
Last year California passed a law making it illegal to talk on the phone while driving without some sort of hands-free device, despite the fact that research shows that talking on the phone while driving is more dangerous than drunk driving, even with hands-free kits, but I digress…
Faced with this new law, my first Bluetooth headset from Motorola was a major disappointment. Rolling with the top down, it was absolutely impossible for me to hear the person on the other end. Completely useless for me since I pretty much only drive with the top up if it's already raining hard before I get in the car.
I started researching other options and that's when I discovered the Cardo S-800. The reason why I had reason to believe in the Cardo brand was the fact that they make communications devices for motorcycle riders.
The S-800 fits snugly in my ear canal and is really damn loud meaning that at only half volume I can clearly hear the person on the other end even while speeding down the freeway with the top down, while at the same time its noise cancellation technology allows the person on the other end to actually understand what the heck I'm saying even with all the wind noise. It's pretty dang awesome.
So if you're a convertible driver that is unsatisfied with the performance of your bluetooth headset, well I highly recommend the Cardo S-800!